What is Statement Jewellery? Well, just as the name suggests this is a piece of jewellery that makes a statement. It has the power to bring life to a simple outfit, to accentuate your features. This type of Jewellery holds attention-grabbing power.
Statement Jewellery done right can make you like a fashion goddess and if done wrong, can make you look like a fashion victim. Let's check out what are the do's and don'ts of accessorizing with these bold pieces.
Three is a crowd
When wearing statement jewellery, do no clutter. Ideally, one piece of jewellery is powerful enough to catch the attention but you can go with a maximum of two pieces of jewellery. These pieces should not be too close to each other. Never ever wear a statement necklace with statement earrings. You can pair a nice combination of statement earrings and a handcuff or a statement necklace and a ring. Too much of Statement jewellery is too tacky.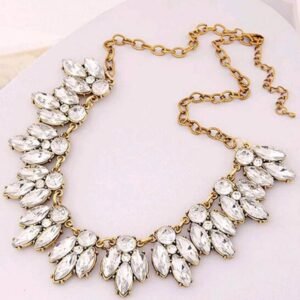 Tone Down the outfit
The key to look perfect is to have the right balance. When wearing statement jewellery, it is very important to keep your outfits to be simple. The idea is to have the jewellery attract the eyeballs, not those frills, heavy embellishments, busy prints and patterns. Statement Jewellery with a simpler outfit gives a chic and classy look.
Colours Matter
It is important to pay attention to colours when accessorising with Statement Jewellery. You can go for bold coloured accessories with neutral coloured outfits, this gives the required pop to the accessories. When accessorising a coloured outfit, go for a sparkly neutral coloured accessory. Colours have the power to make or break the look, therefore the balance is significant.
Get a Manicure 
If you are planning to highlight your hands with some gorgeous statement jewellery, make sure your hands are ready to flaunt them. The Bold Cuffs and rings will draw attention to your hands, it is important to have a clean manicured look . If you are accessorising with colourful rings, go for nude nail paints. However, with gold and silver or any sparkly stone rings, deeper hues of nail paints look gorgeous.