Every bride-to-be wants to look her perfect self for all her wedding festivities. Right from her outfit, hair, makeup. jewelry to accessories, everything should be flawless and unique.
While all the important aspects of the day get the fair attention of the bride, accessories are something that slips away from the bride's mind. The bridal clutch bag is a very important accessory that the that serves not just the aesthetic purpose but also the utilitarian purpose. A beautiful bridal clutch bag wherein she can keep that gorgeous lipstick for touch up, phone for the selfies and her other important things.
Here are 5 Bridal Clutch Bags that will steal your heart away. Buy it for yourself this festive season or gift it to your BFF who is about to get married. She will never forget this beautiful and useful accessory you gift her.
1. DESIGNER MOTHER OF PEARL BRIDAL CLUTCH
The Designer Mother of Pearl Box clutch is beautifully crafted in brass and encrusted with stones and mother of pearl. This bridal clutch seems to be right out od Sabyasachi's wedding collection. The royal look of the clutch makes it a perfect accessory for the bride for her wedding day. The bride can use this beautiful accessory not just for the wedding day but also for endless family weddings, dinners ahead of her.
2. GRACE OVAL BOX CLUTCH
Delicate and elegant, the Grace Oval box clutch makes for an excellent bridal clutch for brides to pair it with their engagement outfits. Designed in Resin and adorned with beautiful stones, this bridal clutch is an investment that you will make. The beautiful and chic design will not only complement your outfit but also add grace to it.
3. ANGELA FEATHER & SEQUIN BOX CLUTCH
Right out of the fairy tale, the Angela feather clutch is a perfect option for that dreamy wedding event that you are planning. Designed with beautiful sequin and feathers the usage of this bridal clutch is very versatile. From wedding events to crazy parties, this bridal clutch will be a perfect accessory.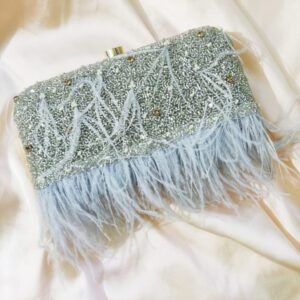 4. VOGUE BROWN SEQUIN CLUTCH
This bridal clutch is very appropriate to its name. The chic, trendy, beautiful and glamorous; seems right out of Manish Malhotra's store. Be it a cocktail, roka ceremony or friends weddings or family dinner, this one is a perfect accessory for every bride-to-be.
5. CARISSA OVAL BOX CLUTCH
The graceful, elegant and sophisticated bridal clutch is and perfect accessory the bride who does want too much and a pompous show, the one who believes in keeping it simple and elegant. Nothing better for a bride with a contemporary classic taste than this beautiful carissa oval clutch designed resin and embellished with resin and stones
Love what you see? Use code CLUTCH20 and get 20% off Boxes & Clutches on The Closet Drama